Ok, I know it is not fish related but it is the first forum people see.
Do not forget to check your body for Melanoma's unlike this old fool, who didn't bother with his latest Mole this will be my 13th Melanoma removal the first 12 were all Benign and this one looks serious, I won't find out till next week.
Here is a pic, well there goes the tattoo on my back and it looks like it has teeth Lol.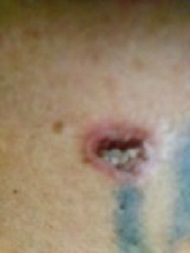 Sometimes when I reflect back on all the beer I drink I feel ashamed. Then I look into the glass and think about the workers in the brewery and all of their hopes & dreams.